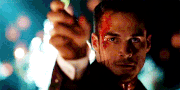 The power to manipulate objects/matter with their mind.
Also Called
Mind-Over-Matter
Mind Power
Object Manipulation
PK
Psychokinesis
Telekinetic/Psychokinetic Power
TK
Capabilities
User can influence/manipulate/move objects/matter with their mind. Telekinesis is one of the basis of many superpowers that are based on "controlling/manipulating", and may evolve to the point that a Telekinetic can control anything at a subatomic, particle and universal level. 
Users
Elizabeth used her telekinesis to break the salt circle that bound the Ancestral Plane Transcending Spell. Once broken, it forced her grandfather back to the Ancestral realm and released Maverick.